YourBlueprint™ is your partner in care

We are ready to work with you
Together with your staff, we can help patients understand their insurance benefits and connect eligible patients with financial assistance options based on their insurance coverage. Financial assistance programs we can tell you about include:
Co-Pay Assistance Program
This program helps eligible, commercially insured patients reduce their out-of-pocket costs (co-pay, co-insurance, or deductible) to as little as $0 per month.
See the full
Terms and Conditions
. To enroll your patient in the YourBlueprint Co-Pay Assistance Program, click on the button below. Please note, pharmacies will need to sign up with our processor prior to redeeming the card on behalf of their patient. For more information, please 
click here
.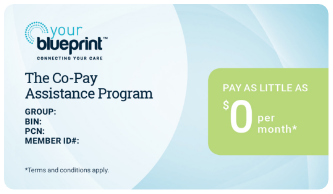 If your patient is uninsured or has limited coverage, they may be eligible to receive their medication at no cost through this program. To qualify for this program, patients must meet certain requirements including:
Upon receipt of enrollment form, your patient's Case Manager will communicate your patient's program eligibility determination by fax and phone. If approved, we will contact your patient by phone and letter.
Independent Charitable Foundations​
Your patient's Case Manager can provide you with contact information for independent charitable foundations that might be able to assist your patient. These foundations are not associated with Blueprint Medicines and establish their own rules and application processes. Blueprint Medicines does not endorse any particular foundation.

YourBlueprint: Our priority is your patient