YourBlueprint® Support Team
Our dedicated Case Managers and Patient Navigators are here for you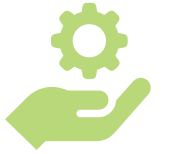 Your specialized team can help throughout your journey, from navigating insurance and financial support to getting on your prescribed treatment and ongoing treatment support
Understanding your treatment, insurance coverage, and financial support options can be a complicated process. To provide assistance for your specific needs, the YourBlueprint Support Team consists of a Case Manager and a Patient Navigator to help guide you throughout your treatment journey.

Your Case Manager is here to help you:
Understand your insurance coverage and help communicate with your insurance company
Check on your eligibility for financial support options
Work with your insurance provider and doctors to help minimize treatment delays
The Case Manager is your main contact within the YourBlueprint Support Team.
"My role allows me to help patients get their prescribed medication, and keep the healthcare professionals updated. I love helping people and feeling like I'm making a difference in a person's life."
-Jodi, Case Manager

Your Patient Navigator is here to help you:
By sharing their knowledge of your Blueprint Medicines therapy
With ongoing support through monthly calls—but you can reach out to your Patient Navigator whenever you have questions
Through explaining complex disease management topics, to help you make your own informed decisions about treatment with your healthcare provider
Patient Navigators are not involved in practicing medicine and will not provide medical advice, recommendations, or opinions. Your Patient Navigator will always refer you back to your healthcare provider for any medical advice.
"I not only provide general information about our medications, but also discuss many lifestyle topics with patients, ranging from preparing for healthcare professional visits to talking with their families."
–Kevin, Patient Navigator
If you are the caregiver of someone on a Blueprint Medicines therapy, their Patient Navigator can ensure that you are included in monthly calls, if requested by the patient. Our goal is to help you continue providing your loved one with the best possible care.
Explore financial assistance
We can support you in navigating your insurance coverage and learning about other financial assistance options.